Introduction
We are pleased to announce the release of Digital Detective's Blade® v1.14. It has been a while since we have released a version of Blade®; this is because we have been working hard on developing Blade® v2.
New Recovery Profiles
In this release of Blade®, we have added 23 new recovery profiles:
Microsoft Outlook (ANSI) PST
Microsoft Outlook (Unicode) PST
HTML 5
Adobe Postscript
Advanced Systems Format
WebP
WebM
Web Open Font Format
Web Open Font Format v2
True Type Font
Ogg Encapsulation Format
OpenType Font
Windows Icon
Windows Cursor
ISO9660 CD/DVD Image
7-Zip File
Microsoft Cabinet
Shockwave CWS (compressed)
Shockwave Videove FWS (non compressed)
F4F Video
Scalable Vector Graphic
Text File (UTF-8)
$Recycle.Bin Recovery
Hiberfil.sys Conversion
We have updated our Hiberfil Converter to support the conversion of hiberfil.sys files from Microsoft Windows 8, 8,1 and 10. We have also improved the handling of files containing xpress blocks where the Operating System cannot be discerned.
$Recycle Bin Recovery
We have added a new Intelli-Carve® recovery engine for $Recycle.Bin entries. The recovery module allows you to select a number of different output formats: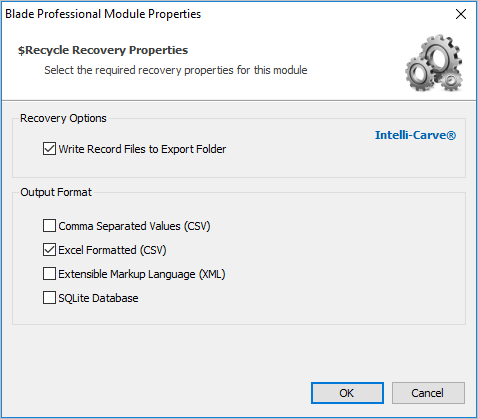 OLE2 Compound File Recovery
We have considerably enhanced the OLE2 Compound File recovery and detection routines and added support for the following Compound binary files:
Microsoft Outlook MSG files
Microsoft Internet Explorer TabRoaming files
Microsoft Internet Explorer TabRoamingLocal files
Microsoft Internet Explorer Machine Info files
Recovery Profile Configuration
We have now added support for signed length markers and multipliers when creating your own recovery profiles in Blade®. You can now select:
Int8 (Little and Big Endian)
Int16 (Little and Big Endian)
Int32 (Little and Big Endian)
In64 (Little and Big Endian)
This allows you to use negative values in length markers and multipliers. This allows for greater flexibility when designing data recovery profiles.
We have also increased the maximum length for recovery to 32 GiB.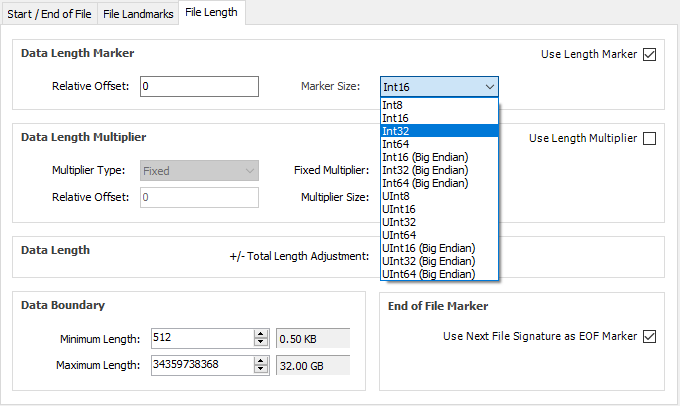 Change Log
To see the full change log for this version, please see: Change Log for Blade® v1.14.