Release Notes for NetAnalysis® Version 3.5
We are thrilled to announce the release of NetAnalysis® v3.5. This version introduces an array of exciting new support and noteworthy improvements that will elevate your browser forensic analysis to unprecedented levels. Our team has been hard at work to deliver a cutting-edge update that empowers you with enhanced capabilities and support for the latest browsers. In this release, we have introduced several new features that cater to the evolving landscape of digital platforms.
New Features
Support for 93 new browser builds and associated data
Support for Chromium based Platform Notifications
Support for SeaMonkey Location Bar History
Support for Epic Privacy Browser on Android Speed Dial and Audio Queue
Support for Microsoft Edge Drop
Support for the new changes to Brave browser on iOS
Improvements
Improved searching and processing to identify vital browser evidence
Improved logging of metadata from Expert Witness image files processed by HstEx®
Improved iOS mobile file system searching and processing
Improved support for Android based web browsers
Change Log
The full list of changes can be found here: Change Log v3.5.
Release Notes for HstEx® Version 5.5
We are pleased to announce the release of HstEx® Version 5.5, which includes improved handling of Expert Witness image files as well as improved carving of SQLite database entries. We have also added support for the changes in the latest browsers and made a number of changes to improve the performance of our unique search and recovery routines. You will be pleased with the results as HstEx® is the most comprehensive carver for recovering browser evidence available today.
The following screen shows a sample of some of the artefacts that are available for recovery.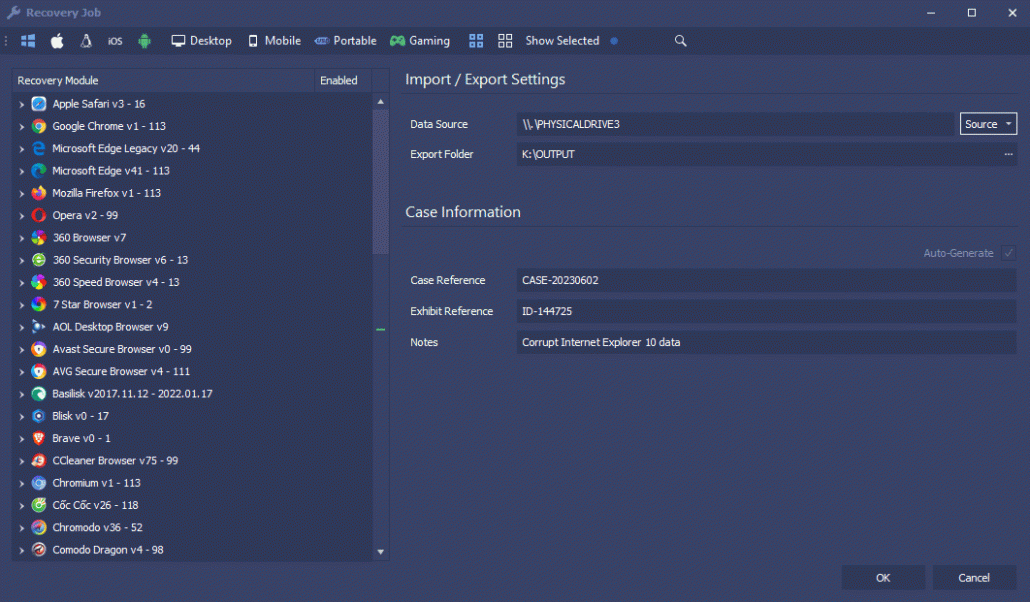 New Features
Support for 87 new browser builds and associated data.
Improvements
Improved recovery of carved SQLite cell records
Improved recovery of Naver Whale on Android downloads entries
Improved recovery of Chromium based keyword search term entries
Improved recovery of Firefox on Linux history entries
Improved recovery of Yandex on Linux cookie entries
Improved recovery of Apple Safari cloud tab device entries
Change Log
The full list of changes can be found here: HstEx® v5.5 Change Log.
Evaluation
If you would like to see what you are missing, please request an evaluation version from the following page: Evaluation Request.